This year, the South Side Weekly published nearly forty issues containing hundreds of investigations, interviews, op-eds, book reviews, profiles and more. After each production night, our editorial staff jumps into next week's stories, hunkering down to write, edit, fact-check, illustrate, and layout our next issue. With this constant grind, there's little time for reflection. We'd like to take the time now to look back at some of the stories from the last year that we're must proud of.
Instead of unilaterally picking this year's 'best' stories and calling it a day, we asked our editors to choose their favorite story from this year—one that caught their eye, or that they see as a quintessential Weekly story—and tell us why. In the blurbs below, our editorial staff writes about how the stories they chose reminded them of experiences from decades ago, brought to light emerging political movements in Chicago, and drove home the importance of community journalism.
We hope you enjoy this opportunity to revisit some of our favorite stories. If you've enjoyed our work over the year, please consider making a donation. Next year, we begin a series of public workshops to better support our mission to train community members as reporters, writers, and artists, and they'll be completely funded by small donations from you, our readers.
Many thanks, and happy New Year,
Adam Przybyl, Editor-in-chief
Emeline Posner, Managing Editor
Sam Stecklow, Managing Editor
Jasmine Mithani, Deputy Editor
This review made me weep, in the good way. I don't know if Christian is a stellar fact-checker, a brilliant writer or a good reader of the two books he discusses; and my guess is he's a bit of all three. Here he captured so accurately detail for detail of all the moving parts involved in electing Mayor Harold Washington and the council wars that ensued following his untimely death.
 This piece did a fantastic job in sharing what exactly made Harper more than just a school—despite years of disinvestment from Chicago Public Schools, Harper served as a community anchor for generations of Englewood residents who found a family in their classmates and teachers. Eleanore did a fantastic job in finding and interviewing a wide range of Harper alumni (and a current student) and weaving their stories into the larger history of years of CPS disinvestment in South Side high schools and the recent CPS decision to close four historic Englewood high schools to make way for a new facility.
This piece explores Northwest Indiana's surf culture: why people keep surfing in a freezing lake, how people are responding to recent industrial pollution, and the tension for surfers who want action against polluters, but also don't want their beach shut down. Every issue of the Weekly has a story or two about something I never knew existed, but this one stands out as one of the year's most unusual, and it does an excellent job of nimbly covering complex legal and health issues in a way that highlights the impacts of those issues on local residents. – Sam Joyce, Director of Fact-checking
✶ ✶ ✶ ✶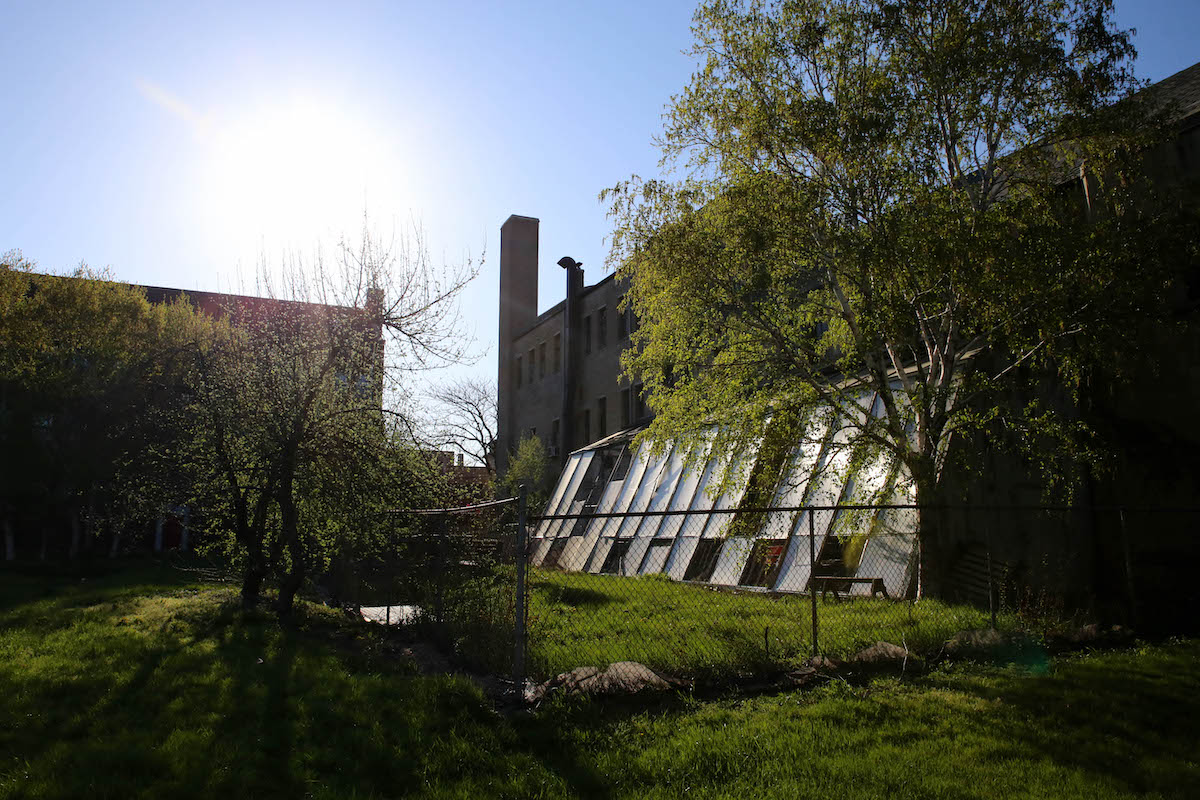 This past spring, the pastor of Woodlawn's First Presbyterian sent out a letter announcing that the two community gardens affiliated with the church would soon be shut down. After a concerted media campaign, the gardens were saved and the pastor was fired (for, officially, another reason), but the question of what had happened in the first place remained shrouded in mystery. With this story, Emeline delved into the long history of community gardening in Woodlawn, and did more than anyone else to show how the relationship between church and neighborhood residents has evolved over the years, and where it is now. It's an instance of the kind of journalism the Weekly does better than almost anyone else in the city: thoughtful, beautiful writing about issues that would otherwise pass most people by. – Christian Belanger, Senior Editor
I really enjoyed this story about South Side artist Kopano because it was simple in style but explored the complexities behind identity and branding as an artist. Kopano seems to be at a crossroad in terms of their artistic career, and I think their vulnerability to admit this is important because it turns what can appear to be a difficult period into one of exploration. Kopano also talks about navigating love in queer relationships and speaks about the need to define their own rules and "put themselves in situations where they feel uncomfortable in order to grow." This is great advice for relationships and beyond! – Roderick Sawyer, Visual Arts Editor
At the Weekly, we publish a lot of important features and investigations into issues facing the South Side, such as evictions and a lack of affordable housing. But I believe a crucial part of our work—and a crucial part of being by and for the South Side—is illuminating how these issues actually affect people's lives and providing a forum for personal reflection. I think Nicole's essay is a great example of this—she beautifully writes about her own experience and illuminates the deficits of housing services along the way. A lot of journalism about housing would gloss over how dealing with this affects you personally, but this essay drives right at the heart of it. One of my absolute favorite things the Weekly has ever published. – Mari Cohen, Senior Editor
In our 2018 Food Issue, Dejah Powell challenged readers to move beyond the term "food desert," a term which, Dejah writes, does not adequately capture the complexity of food accessibility in communities of color. Integrating personal reflections and research from her senior thesis, Dejah explains why "food apartheid" is a better and more just term: because it suggests responsibility for such conditions can be found among those who set and implement policy on labor, housing, development, and more. The conditions for food scarcity in communities of color are connected "not only to segregation, but also to the roots of capitalism and racism that run deep within American society," she writes. "We will not solve the food accessibility issue with just placing grocery stores throughout the city….[We also need to] fight against severe segregation and push for a higher minimum wage." It's a pressing call for residents, journalists, researchers, and politicians alike to rethink solutions to food scarcity, and to reconsider the language we use when we talk about it. – Emeline Posner, Managing Editor
Ricardo Gamboa's recent play with Free Street Theater, Meet Juan(ito) Doe, is deeply rooted in their communities on the South Side. Inspired by stories collected from members of Chicago's Mexican community, staged in the new Storyfront theater in Back of the Yards, the play is first and foremost for the people whose experiences it seeks to reflect. Itzel Blancas's piece about the show is not just a review; it's a beautiful meditation on what that kind of space feels like, how it's made, and why it matters, and an in-depth profile of a creator whose work deserves much more thoughtful coverage. And it exemplifies how even in arts coverage, the Weekly seeks to look deeper and, like Meet Juan(ito) Doe, write from and for the communities it writes about. – Olivia Stovicek, Senior Editor
A follow-up to a 2017 story on CPS's plan to convert NTA into a high school, this story focuses on the intersecting needs of Chicago communities: Chinatown families who've been seeking a neighborhood high school for years, an influential South Loop community association, and the parents of NTA students fighting to keep their elementary school open. The story features many of the typical Chicago issues—segregation, lack of transparency at CPS, and behind-the-scenes conversations between aldermen and a select group of influential community members. At its heart is a question many of the Weekly's most powerful stories ask again and again: who has the say in our communities? – Adam Przybyl, Editor-in-chief
Donations to the paper are received by our 501(c)(3) tax-exempt fiscal sponsor, the Experimental Station. You will receive a receipt from the Experimental Station, and can declare the value of your contribution as an itemized deduction. Your donation will appear on your bank statement as "South Side Weekly."