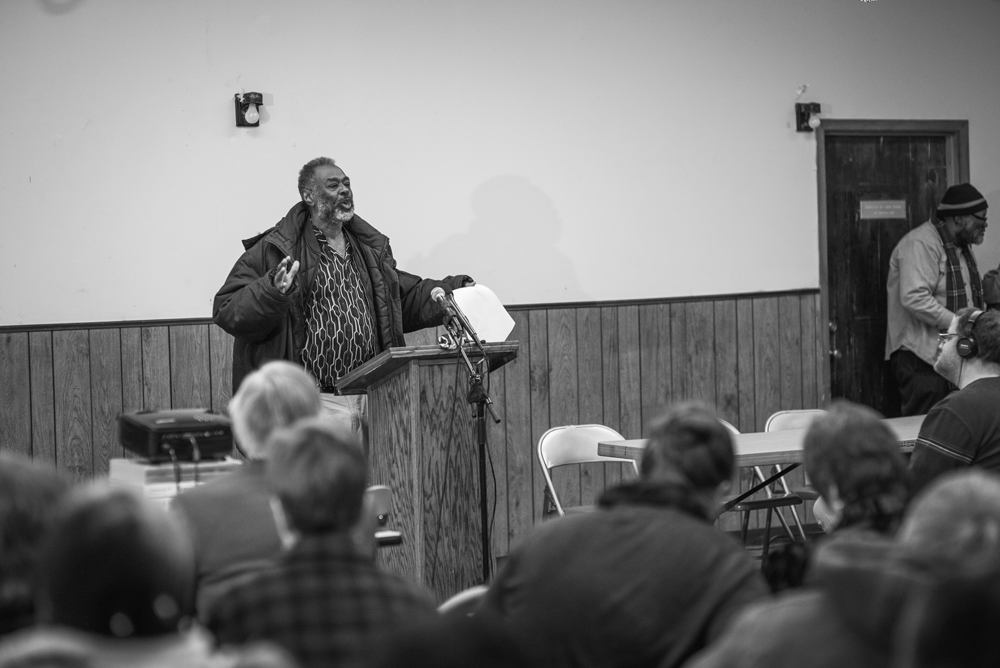 After he graduated from high school, Calvin McCloud began to fall apart. Nineteen years old and a hard worker, he took twelve classes each semester and played on the basketball team. "It was after I graduated," he says, "that the problems, the racing thoughts, started. I didn't want to pay attention to nobody. I wanted to go my own way." He had trouble finding work. "I would try to find a job and I would mess up the application to try to make it correct by scratching stuff out, and I realized that nobody wanted to hire somebody who couldn't fill out an application. It wasn't my fault, because I did everything in my power to correct the problem." McCloud, who turns sixty this year, suffers from depression and paranoid schizophrenia.
From 1987 to April 2012, McCloud was a patient at the city-operated Woodlawn Mental Health Clinic. In 2012, the city closed Woodlawn and five other public mental health clinics in an effort to consolidate services and save money.
More closures may come soon. According to two sources—a veteran therapist and an administrator—within the Chicago Department of Public Health, which operates the city's mental health system, the city plans to close its six remaining clinics in the next few years. "They're targeted to be shut down at the soonest possible date," said the therapist, who has worked at city clinics for more than fifteen years.
In 2012, clinic closures were a response to a $276 million state budget cut to Medicaid, which significantly reduced payouts to mental health programs across Illinois. Now, sources say, the city is using changes from the federal Affordable Care Act to privatize almost all of its mental health services and close its remaining clinics.
The changes are a result of the state Medicaid Reform Act, which was passed in 2011 to expand Medicaid in the aftermath of the ACA. The act mandates that half of Illinois Medicaid holders receive coverage through privately-operated managed-care networks; before then, Medicaid used a broad mix of managed-care and fee-for-service models, which are widely considered to be more costly than managed care. In fee-for-service, providers charge the state directly for services; under managed care, the state contracts services to networks of providers that are open to those with Medicaid coverage.
City clinics have yet to join these networks, however. Thus, mental health clinic patients who must now acquire insurance are being turned away from public clinics, directed toward private clinics that are covered by managed-care networks. Chicagoans who have been seeing the same therapist for years are being transferred to new providers, in some cases resulting in a longer trip for mental health services. And sources say that the remaining public clinics, emptied of clients, will quickly become obsolete and expensive; most, if not all, will be shut down.
The issue is divisive. In 2012, the Mental Health Movement, a program within the activist group Southside Together Organizing for Power, led a campaign of demonstrations against the closures. Protestors picketed City Hall and barricaded themselves inside the Woodlawn clinic. A SWAT team was called in, chain-sawed its way inside, and arrested them.
When talking about Woodlawn, McCloud speaks with deep deliberation. In the twenty-five years he was a patient there, much of his life revolved around the center. "I had a therapist who was wonderful," he says. "Everything he did was 110 percent. He had a brother who had a studio that recorded events, so when the holidays came around we went around making CDs of people celebrating birthdays, weddings, anything. And then on another note, he was an artist, and when I was forty-five, I learned to do abstract sketching. I have a hobby: I collect model cars. I paint. All of this is because I was at a center that wasn't acting like a center—it was acting like a club, like a day camp."
A rift is opening between city clinics that are being cut to save money and non-profits that aren't in a position to catch the runoff. Private providers, even if they are non-profits, depend on patient revenue to stay afloat. Thus, areas with large uninsured populations remain underserved, while wealthier areas have a font of providers.
After Woodlawn closed, McCloud was transferred to Community Mental Health Council, a private clinic in Calumet Heights. Dr. Carl Bell ran CMHC until the summer of 2012, when low revenue and reduced Medicaid payouts forced it to shut down. Before it closed, Bell was personally seeing one thousand patients.
One of the main reasons the clinic closed, Bell says, was patients' inability to pay for services. Most did not have insurance.
But as the ACA goes into effect, more people are getting coverage. Under Illinois Medicaid expansion, those at 138 percent or below of the poverty line are now eligible for Medicaid, providing an additional 342,000 low-income Illinoisans with access. Additionally, every American citizen is now obligated to buy health insurance or face a steep fine.
Bell does hold out hope for CountyCare, a managed-care network operated by Cook County Hospitals. Since it was implemented in 2013, over 70,000 previously-uninsured Cook County residents have enrolled. "Things might get rectified with CountyCare, which would be helpful," Bell notes. "But the mental health system on the South Side is in shambles."
Within the CountyCare network, providers are reimbursed for taking on patients under expanded Medicaid. If the network is successful, providers like Bell will be able to handle large volumes of low-income patients without going under.
But the city itself has not joined the CountyCare network, which means that public health clinics cannot bill services to patients with CountyCare coverage. Instead, those patients must find private providers that accept CountyCare.
Sources say the city is deliberately advising patients to enroll in CountyCare, fully aware that, once they do, they'll no longer be able to use city clinics.
According to the veteran therapist, the city had seriously considered CountyCare starting last fall. In January, however, it changed its position and decided it would not accept the network. The city, the therapist says, is planning to privatize its mental health services.
A spokesperson for the Chicago Department of Public Health, Brian Richardson, did not respond to repeated requests for comment on whether the CDPH had plans to join CountyCare, or whether they plan to close the rest of the clinics. Officials at CountyCare say that the city was never interested in joining the network. Steven Glass, executive director for managed care at Cook County Hospitals, notes that "if the City of Chicago were interested in being a CountyCare provider we would direct them to PsycHealth," which operates the network's mental health services.
When asked, PsycHealth President Dr. Madeleine Gomez confirmed that the city never contacted PsycHealth to become a provider.
Since this past fall, the veteran therapist says, clinics have been directed to recommend CountyCare to their patients, despite the fact that the network would deny them access to public care. The CDPH spokesperson did not respond to repeated requests for comment on whether staff were instructed to recommend CountyCare, in spite of the knowledge that those patients would have to be transferred.
In an email, he wrote, "Moving forward, we will focus our efforts on serving residents not eligible for new options under the ACA, including many undocumented immigrants."
Because of the ACA, however, the number of uninsured patients is quickly dwindling.
"It doesn't take a genius to understand that they knew full well we're not going to have many uninsured down the road," says the therapist.
A patient named Gail said she was advised to sign up for CountyCare without being told that she would no longer have access to her clinic, in Morgan Park. Gail suffers from paranoid schizophrenia. In a video for Mental Health Movement, she said that "when I signed up for CountyCare I did not know that I could not keep my current therapist. The way I found out is a sad way—I found out through the therapist himself. He got a letter saying that he could no longer see me as his client because I am with CountyCare now."
Last week, one public clinic administrator, who requested anonymity, saw a patient break down in the clinic's lobby, sobbing. The patient had learned that she would have to switch to another clinic, one that accepted the CountyCare coverage she had been convinced to switch to. A few weeks prior, the administrator says that eight police officers were brought to remove a patient who had a similar breakdown.
"As we start to turn around these clients who have been coming for such a long time," says the administrator, "I am fearful that they might lose it in the clinic. We don't have any guards. The city is leaving it on us or on the clinical therapists to tell these clients that they can't come anymore."
And as patients are transferred out of city clinics, people will begin to fall through the cracks. Diane Adams, a patient at the city's Englewood Mental Health Clinic and an activist with Mental Health Movement, has already noticed the consequences of the transfers. Regarding those who have had to leave because of CountyCare, Adams says, "[Englewood] had to turn away a lot of them…at least one hundred or more were thrown away."
Leaving clinics, she points out, will create instability in people's lives. N'Dana Carter, a spokesperson for Mental Health Movement, agrees. Carter was one of twenty-three protestors arrested while occupying the Woodlawn Clinic in 2012. "So this is someone you've been with for ten to twelve years," Carter says. "This is someone who will care and look out for you, and they say what the city says, that CountyCare is the best.
"But [before I switch to CountyCare] I don't really get that I can't come back, so as I'm leaving I'm trying to make another appointment, but that appointment is the last appointment."
The Woodlawn Mental Health Clinic, where Calvin McCloud and many others have been treated, is now defunct, save for a Cook County internal medicine clinic that operates in a corner of the building. In mid-March—as per an agreement with the CDPH—Thresholds, a Chicago-based mental health non-profit, will establish office space in the former clinic.
Instead of the centralized, clinic-based approach for which the city used the Woodlawn space, Thresholds employs what it calls "a community-based approach." Teams of counselors go into the neighborhoods to treat patients and help them orient their lives. The medical staff works on outreach teams, instead of in clinics. Emily Moen, director of public relations for Thresholds, says, "That might mean visiting our members—that's what we call our clients—visiting our members at their homes, at a coffee shop, or another setting that they're comfortable in. The idea is to bring services to where the people are."
Thresholds made the decision to expand into Woodlawn after recognizing, as Moen says, "a need in the South Side community to have greater and better access to mental health services."
Expansion into the South Side also means accepting common insurance providers, such as CountyCare. But Thresholds does not provide general mental health services—the clinic focuses on patients whose mental illnesses have reached the point of disability. While it does accept CountyCare, it does not offer the sort of treatments that the vast majority of mentally ill require. Although some will be able to receive service, then, many patients who had relied on the Woodlawn clinic won't be served by Thresholds's presence in the space.
Former Woodlawn patients are typically directed to the nearest CountyCare provider that matches their clinical profile. Depending on the severity and nature of a patient's symptoms, this provider could be miles away.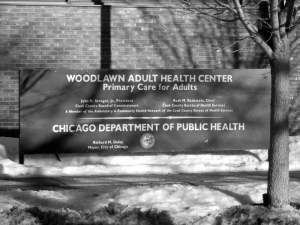 But even patients who are on Medicaid and don't switch to CountyCare may lose access to the public mental health clinics. As the ACA takes effect this year, a number of private managed-care networks are coming to Cook County. By July 1, Chicagoans on state Medicaid who haven't already enrolled in CountyCare will be required to join a private managed-care entity in order to receive their Medicaid benefits. The mandate is part of the state's overall plan to increase managed-care enrollment among those on Medicaid, but just as the city has not accepted coverage under CountyCare, it has also not agreed to accept coverage under these other managed-care entities.
"If the city doesn't join those networks, and they've expressed no intention of doing that, then we'll lose most of our clients," the therapist says. "At the South Side clinics, the vast majority of people have state Medicaid. You can bill for state Medicaid right now, but once it gets to managed care, you're not going to get paid. If the city doesn't join the managed network, then we'll lose all of those patients. And then the city will say, well, we don't really have any uninsured patients left. And they can close these expensive clinics."
The gears of these changes have only just begun to turn. Chicagoans with state Medicaid must choose a network by April 14, so that they will have new providers lined up for the mandated July 1 enrollment. Letters about this are already starting to go out.
"We were just told, this week, that we needed to begin to transition out all of our state Medicaid clients," says the therapist. "When July 1 comes around, that's that, and they'll have their mental health taken care of by someone in the network. So we've been told to transition out all of our state Medicaid clients."
"The network" that the therapist is referring to is a group of six organizations that coordinate managed-care providers within Cook County; the state refers to these organizations as "Care Coordination Entities." Each will be working with patients who are enrolled in state Medicaid. The CDPH did not respond to requests regarding whether or not they were seeking coverage from these networks, or whether or not they had joined these networks by press time.
When the South Side Weekly reached out to the six Care Coordination Entities, none confirmed that the city clinics were part of their coordination networks. If the city does not join these networks, people who are enrolled in the networks will not be able to access city health clinics. No one enrolled in state Medicaid, then, would have access to city clinics.
A 2011 report by the Chicago Civic Federation, "Recommendations for a Fiscally Sustainable Chicago," has already advised the city to "end the City's clinical activities," arguing that the cost of operating the clinics could be eliminated by replacing them with private providers.
The CDPH claims that the 2012 closures saved taxpayers $3 million dollars, since it's cheaper for the city to pay private providers for care than to run community mental health clinics. However, Thresholds released a report last fall estimating that between fiscal years 2009 and 2011, the state's $113 million in cuts to community mental health services "cost the state and hospitals an estimated $131.4 million through 2012."
According to the therapist, "the PR strategy has been to say: 'Our mission is to serve the uninsured, end of story.' If you try to get them to say something like, 'Do you have an intention to keep these clinics operating?' they probably won't respond."
With the mass transitions between providers that are taking place now due to CountyCare, and that are set to take place with the arrival of other managed-care networks this summer, patients will likely undergo similar hardships to those experienced in the aftermath of the 2012 closures. Carter has been a patient at city clinics, and remembers the closures as a difficult time.
"What happened," she says, "is that when the city clinics closed, even if your clinic wasn't closed there was a disruption because your therapist might have been gone. My clinic wasn't closed, but the hours and availability for my therapist diminished. It was a difficult time for me.
"For three weeks I couldn't sleep. I had difficulty seeing my therapist because my therapist was going to be leaving soon. We used to be able to see them whenever we needed it. Now we can only see them twice a month. You only see a psychiatrist every three to four months, and if you miss that it gets dangerous. People lost contact with therapists that they had come to trust, so it was like starting all over."
What the city did to help in 2012, and how people reacted to changes in their mental healthcare, can help predict what to expect from the coming disruptions.
The city made efforts to facilitate the 2012 transition, creating partnerships with over forty private mental health providers. The CDPH claims that it transitioned 429 insured clients to providers in their communities, and monitored them for two months after the transition. As of last April, the city notes that sixty-three patients had decided to return to public clinics.
Bruce Seitzer is the senior vice president of Community Counseling Centers of Chicago, another non-profit that works to help people live with and overcome mental illness. Seitzer notes that the number of patients coming into his clinic did increase after the closures, and that "when the public health clinics closed in 2012, we worked with the CDPH in trying to facilitate the transition of clients to other locations. Some of the clinics that closed were in areas that had services. We tried to ensure continuity of care to try to make sure that folks didn't fall between the cracks."
When Carl Bell's clinic went out of business, Calvin McCloud was reshuffled back to a city clinic, forcing him to change therapists twice in the space of six months. "I fell through the cracks," says McCloud. "I was told that I had to go to the King Center on 43rd and Cottage Grove [where the Greater Grand Mental Health Clinic is located]. And I get there, and when this happened they moved the doctors over from Woodlawn to King Center. It kept me busy for a while, but when the winter came I kind of got behind in my pills, in my things, in my housework. So I started taking too much medicine. And then my doctor from King Center—she was my doctor at Woodlawn—she got transferred over to King Center one day a week, on Tuesday, and I started having problems again."
Others may have had it worse. Diane Adams, the Englewood clinic patient and activist, was moved to Englewood in 2012 when the Auburn Gresham city clinic closed. While she made the transition without any real problems, not all of her fellow patients managed as well. "Bus fare stopped [some patients]. They can't take the bus by themselves. They're in the streets now." She remembers Andre and Charles Burns, who "dropped out because they didn't want to come down to 63rd or go to the other places. But I see Charles Burns and Andre, I see them walking the streets every day on 79th Street.
"You know, when we was out there protesting, we was saying that there would be a lot of suicides, a lot of incarcerations, a lot of hospitalizations, a lot of people not taking their meds. That's why you see a lot of them out here. Policemen don't know how to handle mental illness. They not gonna look at you like [you've got] a mental illness, they gonna look at you like a regular person. They don't know the difference."
The clinics that remain open have felt the strain. As of August 2013, the most recent clinic census, the city's mental health clinics had 2,440 active clients—an increase of seventy-one patients since the 2012 closures. This allots to roughly 406 clients for each remaining clinic. Should the rest close, it is not certain that private providers will be able to cope with the increased loads.
"There are certainly people who've fallen by the wayside or had bad outcomes, but there's been no systematic reporting of what happened," says Mark Heyrman, a professor at the University of Chicago Law School who has worked on mental health advocacy for over twenty years. "It's been mostly anecdotal so far…But inevitably if you make people go to a different provider and they lose the connection with the provider, some of them will simply disappear."
On Fridays, patients at the Englewood Mental Health Clinic go on field trips. Adams says, "They teach us how to act in public. It's called social rehab. Teaches us how to live back in the community. They show us how to take the buses. We talk about cooking, laundry, and stuff like that."
Not all private mental health providers offer the kind of centralized, community-building rehabilitation that Englewood offers, and that Woodlawn offered. Heyrman notes that "with the most serious mental illnesses, if they're going to succeed in the community they need to have stability and human connections." The public clinics have provided such a space for decades.
The losses have already been felt. Calvin McCloud is still adjusting to his new clinic after leaving Woodlawn. As he talks about what might happen if the clinics close, his voice starts to tremble. "I'm just hoping and praying that they don't close, because some of the people who fell through the cracks—they decided not to have a counselor, they didn't decide, but they don't have a counselor [after the closures, some patients struggled to form new counselor bonds]. And you see a doctor in the center, you have to go to these hospitals where you have to wait six, maybe seven hours just to pick up your medicine."
The therapist says that "if [the clinics] were seriously going to stay open at all, they would have to get into these insurance networks." McCloud and Adams both receive coverage from state Medicaid, and thus stand to lose access to their current clinics. McCloud might have to switch therapists again. Adams might lose hers. Other patients might have to travel long distances to get the care they need. Over the next few months, as the system continues to change, more will undoubtedly fall through the cracks.
When the city cut the Woodlawn Mental Health Clinic from their budget, patients were given a choice of which alternative clinic they would go to. Woodlawn, says McCloud, had "an atmosphere of family. They gave me the choice to make up my mind when Woodlawn closed, which center I was going to. But I really didn't want to go to no other center."
Additional reporting by John Gamino, with research from Bess Cohen, Spencer Mcavoy, Meaghan Murphy, and Hannah Nyhart.